Canadian Young Speakers for Agriculture is eager to welcome aboard industry organizations, companies, and individuals who are passionate about helping today's youth and tomorrow's leaders advocate on behalf of one of Canada's most important industries. As a CYSA sponsor you will enjoy:
Attaching your company's name to a national platform where insightful and forward-thinking Canadian youth advocate for agriculture.
Brand recognition before, during, and after the competition in industry media.
A variety of sponsorship perks (subject to your sponsorship level) including, but not limited to, recognition in our competition day program, the CYSA annual report, on the CYSA website and social media platforms.
The potential to recruit new employees.
Become a sponsor today to help grow our agriculture industry into the future!
Contact CYSA for more information, or download our sponsorship package. 
Our 2021 Sponsors
*********************
CYSA 2021 is funded in part by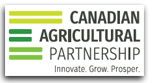 Gold
Silver

Maxwell Law